Zapatistas
Zapatista originally referred to a member of the revolutionary guerrilla movement founded about 1910 by Zapata.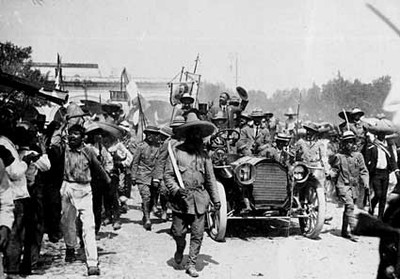 http://en.wikipedia.org/wiki/Mexican_Revolution
His Liberation Army of the South (Ejército Libertador del Sur) fought during the Mexican Revolution for the redistribution of agricultural land. Zapata and his army and allies, including Pancho Villa, fought for agrarian reform in Mexico. Specifically they wanted to establish communal land rights for Mexico's indigenous population, which had mostly lost its land to the wealthy elite of European descent. The majority of Zapata's supporters were indigenous peasants from Morelos and surrounding areas. But intellectuals from urban areas also joined the Zapatistas and played a significant part in their movement, specifically the structure and communication of the Zapatista ambitions. Zapata had received only a few years of limited education in Morelos. Educated supporters helped express his political aims. The urban intellectuals were known as "city boys" and were predominantly young males. They joined the Zapatistas for many reasons, including curiosity, sympathy, and ambition. Zapata agreed that intellectuals could work on political strategy, but he had the chief role in proclaiming Zapatista ideology. The city boys also provided medical care, helped promote and instruct supporters in Zapatista ideology, created a plan for agrarian reform, aided in rebuilding villages destroyed by government forces, wrote manifestos, and sent messages from Zapata to other revolutionary leaders. Zapata's compadre Otilio Montaño was one of the most prominent city boys. Before the Revolution, Montaño was a professor. During the Revolution he taught Zapatismo, recruited citizens, and wrote the Plan de Ayala for land reform. Other well-known city boys were Abraham Martínez, Manuel Palafox, Antonio Díaz Soto y Gama, Pablo Torres Burgos, Gildardo Magaña, Dolores Jiménez y Muro, Enrique Villa, and Genaro Amezcua.
Document Actions