Che Guevara
by
r0608759
— last modified Nov 25, 2009 03:10 PM
Che Guevara- the pop culture icon.
Pop icon - Che Guevara.

A guerilla soldier and revolutionary from the 1960s, Che Guevara, is a Pop idol of young people far away from Cuba and Latin America. Guevara can be found on lots of T-shirts, album covers and is a symbol for revolution. As a Pop idol, the actual doings of Guevara are not important, but what he has come to represent.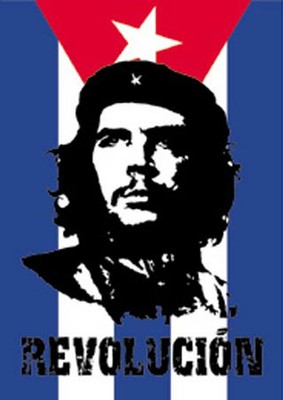 For many around the world, Che has become a generic symbol of the underdog, the idealist or the man willing to die for a cause.

Examples in Films:
- Gael Garcia Bernal in Fidel (2002)
- Omar Sharif in Che! (1969)
- Antonio Banderas in Evita (1996)
- Benicio del Toro in Che (2008)
Examples in Music:
- Jay-Z "I'm like Che Guevara with bling on / I'm complex."
- The Rolling Stones "Mr. Gringo, my father he ain't no Che Guevara, And he's fighting the war on the streets of Masaya"
- Manic Street Preachers "Che Guevara, you're all target now".
Examples in books and magazines:
- In the memoir "Persepolis" by Marjane Satrapi, the main character dressed up as Che as a child and played with her friends who portrayed other revolutionaries.
- Che was featured on the cover of the August 8, 1960 edition of Time Magazine, where in they declared Guevara "Castros Brain".

- The December 2008 issue of Rolling Stones Argentina features Che's well known Guerrillero Heroico image on the cover.
- To coincide with the 40th anniversary of his execution, "Che in Verse" reproduced 134 poems and songs from 53 countries about the enigmatic revolutionary.
Examples in Advertising:
-
For an advertising campaign Taco Bell dressed up a chihuahua like Che Guevara and had him state: "I want Taco Bell!". They wanted a heroic leader to make it a massive taco revolution."
- There is an El Che-Cola which donates 50% of their net profits to NGOs, and has the slogan: "Change your habits to change the world."
- Smirnoff vodka attempted to use the image of Che Guevara in an advertising campaign in 2000.
- Converse uses the image of Che Guevara in one of their shoe ad campaigns.

Examples in Fashion:
-The international retail store Urban Outfitters offers a "Che Cigar" graphic t-shirt, featuring a famous photo of the guerrilla smoking.
- The Korda image of Che Guevara is licensed for North America to All the Rage Inc., for Apparel.
- The Italian company Belstaff offers a "Trialmaster Che Guevara replica jacket".
Document Actions