Vivienne Westwood
by
r0608759
— last modified Dec 14, 2009 12:50 PM
Vivienne Westwood is a woman of protest- here some real life examples:
1. Westwood- Protest on the Catwalk: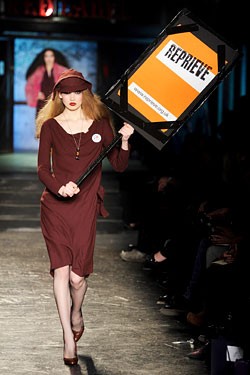 Fashion show- Vivienne Westwood
The high priestess of punk, Dame Vivienne Westwood, who has vowed to vote Conservative at the next election, could not resist a political statement at her first catwalk show in London for 10 years.
She opened her Red Label collection at London Fashion Week with a male model wearing "Guantanamo Orange" underpants and a girl carrying a placard protesting for the rights of prisoners at Guantanamo Bay.
2. Westwood herself on the streets:
Vivienne Westwood denounces climate change at G20 protest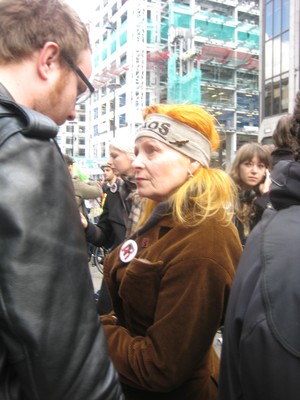 Walking through the peaceful "climate camp" zone in Bishopsgate, Westwood warned that if politicians did not take note, the human race faced "extinction". Wearing a bandana which read "Chaos", Westwood said she hoped the protests would have a positive effect on climate change. "It raises public awareness of the problem the human race faces, which it's never faced before, which is extinction." She added, "The more the public gets to grips with it, the more chance we've got to deal with it. Politicians will act in that case. All the business about finacial collapse is linked to it – it's all part of the madness."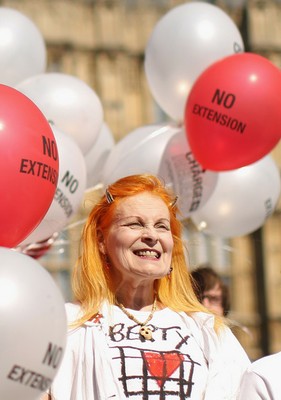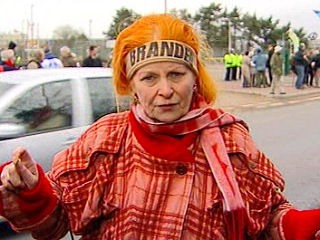 Document Actions