radical chic
Nov 18, 2009
by
r0608759
— last modified Nov 18, 2009 03:55 PM
"the adoption of radical views, dress, or lifestyle by members of the upper class; association of the upper class with radicals."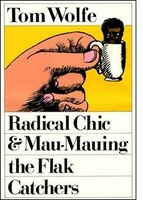 The phrase "radical chic" originated from Wolfe's famous 1970 article, "These Radical Chic Evenings," first published in New York magazine and later compiled for his books Radical Chic & Mau-Mauing the Flak Catchers and The Purple Decades. In the essay, Wolfe used the term to satirize composer Leonard Bernstein and his friends for their absurdity in hosting a fundraising party for the Black Panthers—an organization whose members, activities, and goals were clearly incongruous with those of Bernstein's white elite circle. Wolfe's concept of radical chic was intended to lampoon individuals who endorsed leftist radicalism merely to affect worldliness, assuage white guilt, or garner prestige, rather than to affirm genuine political convictions.
"Terrorist chic" is a modern expression with similar connotations and is a more recent and specific variation of the term. It refers to the appropriation of symbols, objects, and aesthetics related to radical militants, usually in the context of pop culture or fashion. When such imagery is deployed subversively, the process exemplifies aestheticization as propaganda. Regardless, because terrorist chic derives its iconography from groups and individuals often associated with violent conflict or terrorism, the term carries a greater pejorative tone than "radical chic."
Links zu Beiträgen "Radical Chic":
http://www.stern.de/politik/geschichte/terror-und-zeitgeist-die-raf-ist-radical-chic-588432.html
http://www.zeit.de/2003/37/Jugendbewegung